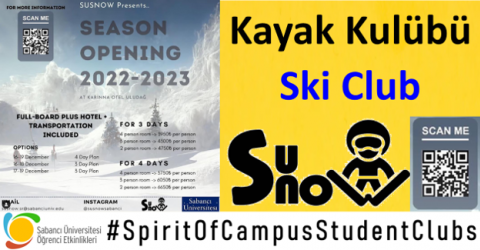 Hello friends, with the arrival of the winter, after midterm exams, before the final exams we are organizing our first trip of this season as the SUSNOW family.
We offer three options in total, between Friday, December 16 Monday, December 19, where we will stay at Karinna Hotel(at the Ski-Resort), with 2 or 3-night accommodation options.
During our trip, In adittion to events such as night skiing and World Cup Final night, after-ski and night parties with the contributions of RadyoSU, awaits us.
Please scan the qr code for additional information.
For participation and questions:
Instagram: @susnowsabanci
Mail: susnow.sr@sabanciuniv.edu